Fokus Managed Services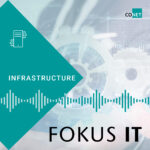 Was macht den Unterschied zwischen Managed Services, Operations und IT-Betrieb aus? In der Wahl eines passenden IT-Dienstleisters sind viele Kriterien gefragt. Unternehmen und Dienstleister müssen zusammenpassen, die Erwartungen eines Unternehmens müssen erfüllt werden. Unser Expertenteam geht in dieser Folge des CONET-Podcasts Fokus IT den Learnings und Best Practices erfolgreicher Managed Services nach.
Im Gespräch sind Dominic Kersting, Head of Sales und Peter Lenz, Head of Managed Services.
Inhalt
Begrüßung (00:20)
Unterschiede zwischen Managed Services, Operations und IT-Betrieb (01:11)
Was macht gute Managed Services aus? (03:23)
Welche Erwartungen haben Unternehmen an Managed Services? (06:30)
Auswahlkriterien eines Unternehmens für einen passenden IT-Dienstleister (10:42)
Eine Anekdote über heruntergelassene Hosen (12:44)
Kontakt