The best system providers 2015:
CONET is Achiever of the Year

The Hennef-based IT-System Provider and Consultancy CONET holds the 4th rank in its category in the list of the "best system providers 2015" of the magazine Computerwoche

Hennef/Düsseldorf, 27th August 2015. On the system providers congress "Chancen 2016" in Düsseldorf ChannelPartner presented yesterday the best system providers 2015. About 2.800 customers had assessed the services of their IT-service providers in more than 7.200 individual projects in/during the current Computerwoche-system provider-survey. In the category "medium-sized system providers with a revenue of 50 to 250 million Euro per annum", CONET has achieved a quantum leap in the ranking this year and finished 4th place with the average score of 1,45. For this performance the Hennef-based IT-specialists were awarded the title "Achiever of the Year".
"The establishment of long-term relationships and the achievement of joint successes are important cornerstones of our self-perception as a service provider", declares CONET CEO Rüdiger Zeyen. "Not only talking about lofty goals but our work becoming tangible in the project results and in the good assessment marks given by our customers, this delights us very much. We like to extend our thanks to all participants of this survey who gave us such a positive assessment – and particularly to our employees, who inspired our customers in their projects with their extraordinary performance."
CONET: achiever of the year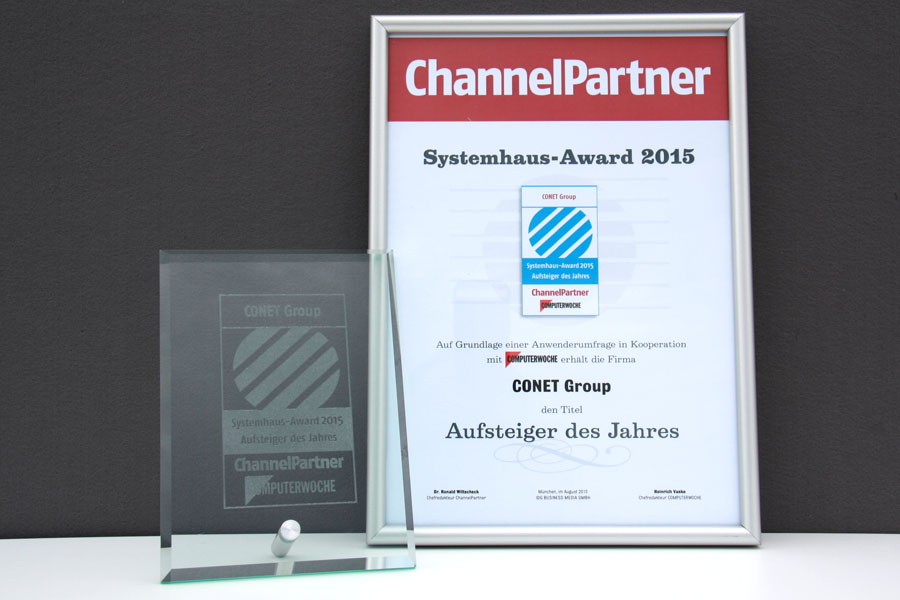 Please find the complete results of the survey and the system provider awards on the internet under this URL.
About CONET
"Success. Our passion." CONET has been a reliable and highly competent IT partner for SAP, Infrastructure, Communications, Software and Consulting with the focus on Cyber Security, Cloud, Mobility and Big Data since 1987. According to the latest surveys by leading German IT publication Computerwoche, CONET ranks among the best medium-sized German IT systems and consulting companies. Customers from industry and commerce, the public as well as defense and security sectors alike value CONET's commitment to quality and success. CONET product solutions for Critical Control Room Communications, Collaboration and Business Process Management are in use worldwide. CONET currently employs more than 400 business and IT specialists at eight locations throughout Germany and Austria.
Please direct any enquiries to:

CONET Technologies AG
Simon Vieth, Press Officer
Humperdinckstraße 1
53773 Hennef
Germany
Phone: +49 2242 939-246
Fax: +49 2242 939-333
E-mail: presse@conet.de