Business Activities of ACCELSIS Transferred to Hennef-Based CONET Solutions
Focussed consulting and developing expertise in the fields of SOA, agility and Java-based solutions – Extended management at CONET Solutions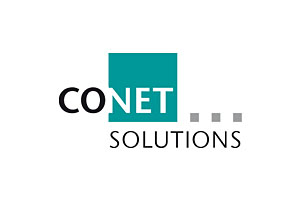 Hennef, March 7th, 2013. In order to concentrate key elements of its solution and services portfolio in its affiliate companies more effectively, CONET Group has transferred the business activities of the Munich-based ACCELSIS Technologies GmbH to Hennef-based CONET Solutions GmbH. ACCELSIS had already been a member of CONET Group since 2008. As a result of the fusion, the group now expects a considerably increased market potential for their services in the fields of service-oriented IT architectures, agile software engineering as well as Java and open source based solutions for business process management, collaboration, web solutions and portals.
"In numerous projects, the teams of both our affiliate companies have already been working together effectively", says Rüdiger Zeyen, CEO of the group holding CONET Technologies AG. "The integration of ACCELSIS' services into the CONET Solutions GmbH now enables us to focus and combine our know-how in a bigger pool of developers and consultants. Thus, we will be able to offer our customers even better products and services in the future."
Extended Management at CONET Solutions GmbH
Until today, Anke Höfer has been responsible as the sole managing director for the CONET Solutions GmbH. Now she will be supported as chair of the managing board by Dirk Lieder, former division director at CONET, and Klaus Schlumpberger, former managing director at ACCELSIS, in the extended management at CONET Solutions GmbH. "During the past cooperation of our two companies it has become increasingly apparent that we can achieve our main goals – high customer satisfaction, strong innovative power and lasting staff motivation – all the better in a close organizational unit", emphasizes Anke Höfer. "Therefore, we decided to continue on this path towards a further strengthening of our market position."
Customers and partners of former ACCELSIS Technologies will probably not even notice any imminent changes: the vicinity of their service provider will not be altered as CONET Solutions will carry on business in the Munich and Frankfurt/Eschborn branch offices with increased staff. The service portfolio, especially in the fields of service-oriented architectures and agility on the basis of the open source platform oparo, will indeed be further expanded with now extended resources.
Recommended Link
Solutions
About CONET
"Success. Our passion." CONET has been a reliable and highly competent IT partner for SAP, Infrastructure, Communications, Software and Consulting with the focus on Cyber Security, Cloud, Mobility and Big Data since 1987. According to the latest surveys by leading German IT publication Computerwoche, CONET ranks among the best medium-sized German IT systems and consulting companies. Customers from industry and commerce, the public as well as defense and security sectors alike value CONET's commitment to quality and success. CONET product solutions for Critical Control Room Communications, Collaboration and Business Process Management are in use worldwide. CONET currently employs more than 400 business and IT specialists at eight locations throughout Germany and Austria.
Please direct any enquiries to:

CONET Technologies AG
Simon Vieth, Press Officer
Humperdinckstraße 1
53773 Hennef
Germany
Phone: +49 2242 939-246
Fax: +49 2242 939-333
E-mail: presse@conet.de