Simplified Real Estate Management for Banks
New cooperation of CONET, qinet and CONact offers a powerful software as a service solution for clearing of real estates in "bad banks"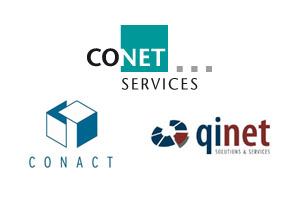 Frankfurt am Main, March 4, 2011. All over Europe so-called "Bad Banks" are currently emerging. One of their main tasks is the efficient management and secure processing of "parked" junk property in their banks. In a recently established close cooperation, CONET Services AG, qinet GmbH and CONact Market Entry Management GmbH now offer a tailormade solution for this challenge: CONACTOR is a special application that supports the management of real estates throughout their complete lifecycle. The application especially supports bank-specific processes and requirements. The solution's developers at CONact together with qinet's financial market experts implement the solution in the bank's infrastructure, supporting the existing in-house teams. CONET Services AG runs all the required components in its ISO-certified data centre in Frankfurt as software as a service.
"Our CONACTOR solution has been developed on the basis of our long-term practical experience as crisis managers for the clearance of real estates in banks", Jörg Kowollik, Managing Director of CONact, explains. The real estate software solution combines a number of single modules keyed to individual management tasks: From quick assessment of a real estate portfolio, facility management, structured products and master data management according to due diligence guidelines to the final distribution including exposé preparation and publication on a dedicated real estate portal, these features cover all relevant processes in a comprehensive real estate management.
"The full potential of such a special and practical product particularly pays off if it can be integrated seamlessly into existing infrastructures and established business processes", Werner Jost, Managing Director of qinet, states. In this the company also recognises its core contribution to the cooperation: "With our network of key competences in an extensive financial market community we ensure a smooth implementation for the future users of our solutions, which in turn leads to tangible benefits and fast returns on investments in the real estate management", Jost says.
"Our comprehensive service approach guarantees that a complete and powerful application architecture for the complex management of junk property becomes a simple, easy-to-use and reliable solution", Franz Pepelnik, CEO of CONET Services AG, continues. Offering all the needed modules as a software as a service portfolio further reduces investments and operation costs significantly. Concerning the often controversial security of data management in such a cloud-based model, Pepelnik emphasises that customers do not need to worry: "Our data centre in Frankfurt, already used by numerous financial institutes, operates according to severe BAFin restrictions and thus fulfils all expected and prescribed data protection and data security regulations."
About CONET
"Success. Our passion." CONET has been a reliable and highly competent IT partner for SAP, Infrastructure, Communications, Software and Consulting with the focus on Cyber Security, Cloud, Mobility and Big Data since 1987. According to the latest surveys by leading German IT publication Computerwoche, CONET ranks among the best medium-sized German IT systems and consulting companies. Customers from industry and commerce, the public as well as defense and security sectors alike value CONET's commitment to quality and success. CONET product solutions for Critical Control Room Communications, Collaboration and Business Process Management are in use worldwide. CONET currently employs more than 400 business and IT specialists at eight locations throughout Germany and Austria.
Please direct any enquiries to:

CONET Technologies AG
Simon Vieth, Press Officer
Humperdinckstraße 1
53773 Hennef
Germany
Phone: +49 2242 939-246
Fax: +49 2242 939-333
E-mail: presse@conet.de