GWAVACon 2014 in Berlin
CONET presents its collaboration and mobile management solutions portfolio in October in Berlin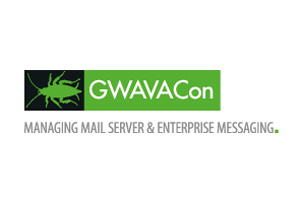 This two-day IT-Conference is all about Mail Server Management & Enterprise Messaging solutions from Microsoft, Novell and GWAVA. Technologies and solutions from other event sponsors add even more value to the conference. The conference days are packed with various sessions for IT-Managers, Administrators as well as for Messaging Professionals who take care of the messaging infrastructure in their enterprise.
This year the GWAVA Collaboration Community will meet for the ninth time in Germany. From 13th until 15th October 2014 manufacturers, developers, consultants and users will discuss on GWAVACon in the Radisson Blu Hotel near Berlin's Alexanderplatz about all areas of modern collaboration, cloud and mobility solutions.
CONET is a long-standing sponsor of GWAVACon
CONET's collaboration and messaging specialists will focus on presenting the possibilities to utilize Novell Vibe especially in heterogeneous system environments as well as solutions and scenarios based on Microsoft Office 365, MS Office and MS Exchange.
Feel free to use your chance for networking with our collaboration professionals.
See you in Berlin!
Related Solutions
Event Website