CONET Solutions GmbH Acquires Business Activities of INFOFLEX Kommunikationssysteme GmbH
Additional developer resources and further sales potential within CONET Group strengthens output management product OfficeBridge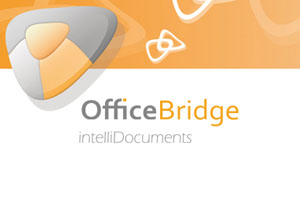 Logo: Office Bridge
Frankenthal/Hennef, May 2, 2011. Effective from 1. April 2011, owners of INFOFLEX Kommunikationssysteme GmbH in Frankenthal transfer their business activities to CONET Solutions GmbH in Hennef. Thus, CONET complements its own services with the special portfolio of INFOFLEX, which has been on the market for over 15 years with services such as planning and developing of software solutions and installation of software products. Both partners expect a clear increase of market potential for the output management product "Office Bridge", which was developed by INFOFLEX.
"The integration into the CONET Solutions GmbH allows us to fall back on a great pool on developer resources for a targeted development," explains CONET managing director Anke Hoefer. "Thus, we can offer more comprehensive products and services in the areas output and document management".
As biggest company of CONET Group, CONET Solutions GmbH has been offering solutions in the areas software engineering, communications and IT infrastructure and generates with currently 200 employees a turnover of 25 billion euros at the locations Hennef, Augsburg, Berlin, Munich and Neubrandenburg. The medium-sized CONET Group is represented at eleven locations in Germany. "Our customers can still profit from our close proximity," emphasizes Hendrik Vogel, managing director of INFOFLEX. "Contact person and partner in the management as well as running projects stay the same."
About CONET OfficeBridge
The new CONET OfficeBridge combines as product solution the single components of existing IT architecture to an optimized document process. "The use of Microsoft SharePoint infrastructure for instance, guarantees a complete integration in all established workflows and the archiving of all documents that have been created with Office Bridge without any extra effort", explains Hendrik Vogel, Managing Director of INFOFLEX." Thomas Schönfeld, head of the new product area at CONET. The linking to a Customer Relationship Management (CRM) allows, for example, that the current address information is used. The transferred Meta data makes with the automated forwarding of documents to a document center not only a process-referred assignment but also the specific linking to CRM, accounting system such as Navision or personal folders.
About CONET Technologies AG
"Success. Our passion." Hybrid IT solutions provider CONET currently ranks among the top 20 of German IT systems and consulting companies and has been successfully offering consulting, software engineering, IT infrastructure solutions and IT staffing services for customers from the sectors of defense & public security, public administration and private enterprise since 1987. CONET Technologies AG is the holding company of the CONET Group, coordinates corporate tasks in the areas of human resources, communications, procurement and accounting and has been listed in the Entry Standard of the Frankfurt Stock Exchange since 2007 (ISIN DE000A0LD6V0, WKN A0LD6V). CONET provides its services and pools its professional expertise in four major subsidiaries, i.e. CONET Solutions, CONET Business Consultants, QUEST (IT staffing services) and CONET Services. Additional service providers and regional companies offer specialized solutions for individual customer requirements. With currently approximately 400 employees at thirteen locations throughout Germany, Austria, Greece, Hungary and Switzerland, CONET Group expects turnovers of more than 100 million Euros for the current business year.
Please direct any enquiries to:

CONET Technologies AG
Simon Vieth, Company Spokesman
Theodor-Heuss-Allee 19
53773 Hennef
Germany
Phone: +49 2242 939-246
Fax: +49 2242 939-333
E-mail: presse@conet.de