Docusnap – automated IT documentation

Docusnap is the solution for trouble-free IT documentation. From agent-free inventory via detailed network plans, licence management and authorization analysis until provision of an audit-conform handbook or an emergency plan this solutions provided by itelio GmbH builds the strong basis for decisions, inventories and IT advancements for your enterprise.

While many IT departments still record their infrastructure manually, you can relax with Docusnap: by an automated Asset Discovery, planned jobs with comprehensive reporting and automatically updated handbooks and resumption of services time-intensive tasks are completed in no time.
Docusnap is a great relief not only for administrators but as well for deciders, CTOs and data protection officers. More than 180 periodic reports regarding the status of your IT environment offer a survey with the necessary depth. In regular releases new requirements are implemented, no matter whether it is about virtualizing, storage or SNMP-infrastructure. With Docusnap Connect and Docusnap Link you can integrate Docusnap seamlessly into your existing infrastructure and cooperate to your advantage with third party software.
Docusnap and CONET
CONET's experts will assist you with the introduction of Docusnap software in your enterprise. In this matter you can choose between the following options: Docusnap as a service or Docusnap as a permanent service in your enterprise.
Docusnap as a service:
One-time scan of your environment producing a defined number of documents and reports
Recurring scan of your environment for difference analysis
IT security check
IT documentation
Support for migration projects (Active Directory, FileServices)
Ad-hoc analysis of your IT-environment
Individual analysis

Docusnap as a permanent service in your enterprise:
Installation and configuration of Docusnap, workshop for the use of Docusnap and for the drafting of reports.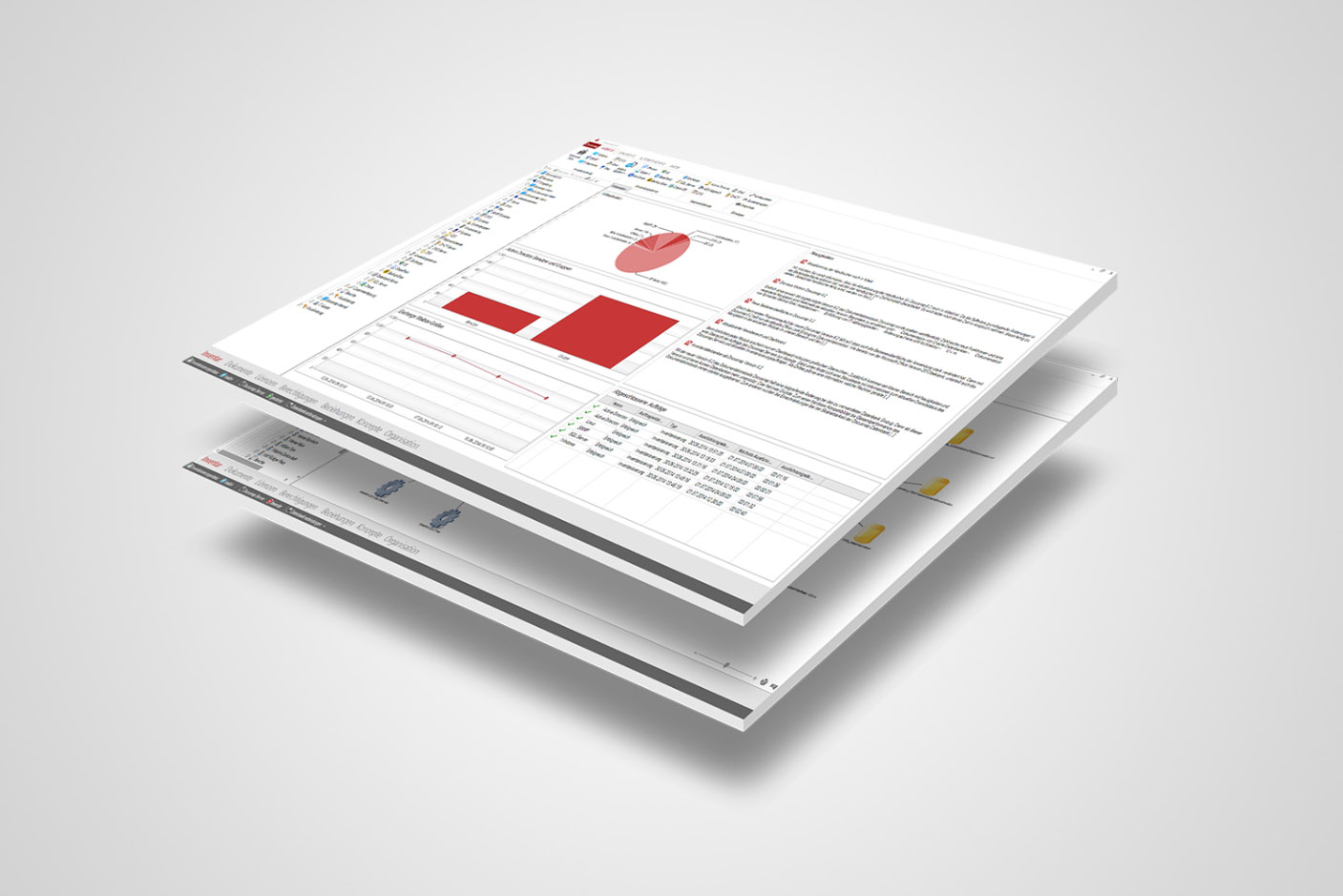 Thorough and secure on all levels in Docusnap
Documentation according to BSI
Few areas penetrate an enterprise so deeply and comprehensively as the IT. This has to be displayed in a comprehensive documentation solution with all of its effects on involved departments and persons. For this, Docusnap has been created, for helping the enterprise-internal IT. The connections to the BSI's recommendations for the basic protection are numerous. In the following we show two aspects.
ASSESSMENT OF THE PROTECTION REQUIREMENTS
For every documentation procedure, there shall be a comprehensive and thorough listing of the hardware and software inventory. This is the BSI's recommendation in its "IT basic protection"-papers, chapter M.2.25. Docusnap manages this feat by a recurrent but agent-free inventorying routine, which can be coordinated individually to your system environment.
From among the many approaches, however, for SNMP, Windows up till Linux and Mac inventorying Docusnap is the comprehensive solution. Docusnap provides a basic documentation from the found data that can be provided as well in HTML format without additional effort. More than 180 standard reports serve for numerous requirement profiles.
SECURING AND HEDGING
In order to secure the tasks and troubles of the IT towards the other departments and in order to improve the general security situation of the company, there are recommended actions – on statutory level as well – which is an usually unknown and not yet tried and tested element that sometimes contains unpleasant surprises. For instance, the head of department or the manager of a private limited company is personally liable for the assigned access rights structure. The IT department is merely responsible for the technical implementation. Therefore, this structure should be jointly determined. This tedious job can be simplified to a minimum by the Docusnap access rights analysis. The necessary knowledge is shared and information gaps are minimized by automated delivering this information by e-mail.
Just like the Docusnap licence management, its numerous diagrams and its IT concepts offer an important facilitation in the daily work routine while at the same time complying in the best-possible way with the recommendations of the BSI. Implement your comprehensive concepts like resumption plans, SOPs or operation manuals in no time.
Furthermore, we offer you comprehensive consulting services for the ideal application of Docusnap in your IT environment: so that Docusnap can deliver essential data to your software deployment or improve the performance of your ticket system and thus of your service desk. This will have a positive effect to your entire company operation as well.