TRANSLATOR
With the SAP-certified TRANSLATOR, we efficiently map data from IBM Notes in the SAP NetWeaver XI/PI and make it available to SAP/legacy systems. Building in-house interfaces is no longer necessary.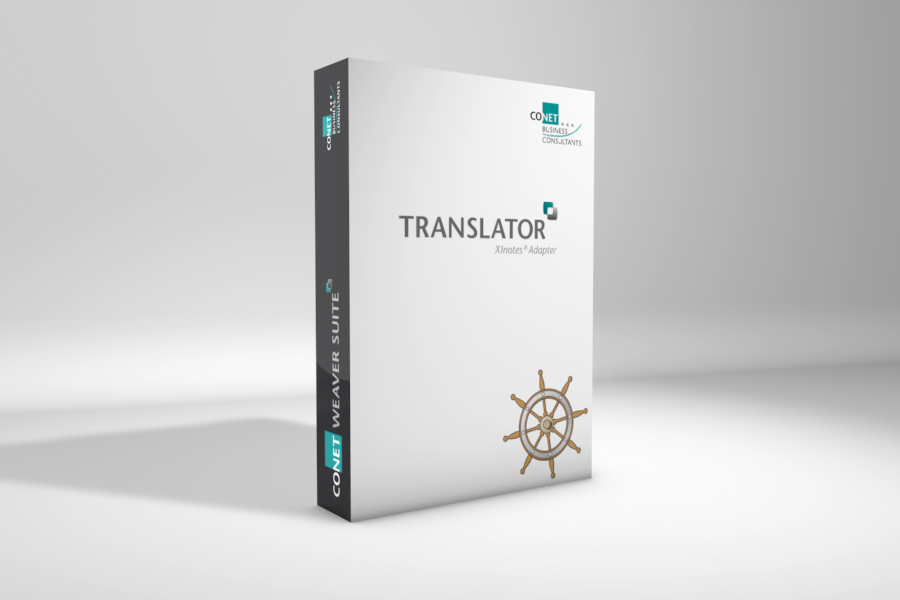 Do you work for a global corporation with several thousand employees and offices located around the world? Do you want to create internationally standardized, consistent business processes, harmonize master data and functions in your company or simply strengthen your sales operations? If so, you are in the same situation as many of today's CONET customers!

The spectrum of everyday requirements for our TRANSLATOR technology is widely varied. Some customers want to provide their field service staff integrated processes with access to current information via Blackberry devices. Others want to segment their customers quickly and easily according to specific criteria – for example, special requirements or cross-selling potential. Other customer groups want to synchronize their data between Lotus Notes and SAP NetWeaver to improve reporting or centrally maintain important data on competitors. Convenient administration is another example. A growing number of customers want to make their work more user-friendly. An intuitive editor makes it possible to create graphic structure definitions and mappings. These can be adapted as necessary and reused. Something that takes the load off your IT department.

Taking a close look at user applications, it becomes obvious that the product offers a number of options. For example, the proper sales approach, more individualized support. From sales and purchasing, to interface management, efficiency can be improved across your entire company.

CONET Translator (XInotes Adapter) has positioned itself as an open integration technology. With it, the worlds of IBM Notes & Domino and SAP can be connected. This is of interest to anybody who uses SAP NetWeaver XI/PI in their company, and who would like to integrate IBM Notes applications into SAP processes. Programming is not necessary, thanks to the simple configuration in SAP XI.
Highlight functions:
Efficiently manage contacts in IBM Notes and SAP CRM
Archive e-mail from groupware in SAP systems
Adjust master data and profiles, e.g., in SAP MDM
Integrate Domino databases into SAP systems
Execute event or time controlled operations
"Push and pull" thanks to bidirectional interfaces
The integration is easy:
This is all you have to do: Simply enter the connection data between the Domino server and SAP NetWeaver XI in the XI Adapter. The XI developer can determine which Lotus Domino database he wants to access and how to do so based on the details of the metadata. This access takes place either reading via intelligent queries, writing or deleting. Of course, the data exchange always takes place bidirectionally.
So that TRANSLATOR can communicate with other applications, simply create two new communications channels in the SAP PI/ XI. Then configure one channel as receiver and the other as sender. In addition, you can create ad hoc databases on the Domino server with SAP data. This is helpful to all who evaluate reports from the SAP system.
Related Solutions