CONET employee in talent programme

Annika Heymann, business project assistant of the Hennef-based IT system and consulting enterprise, receives an education scholarship from the local Chamber of Industry and Commerce.

Hennef, 18th April 2016. Last Friday, Annika Heymann, business project assistant at CONET, received an education scholarship of the Stiftung Begabtenförderung berufliche Bildung – Gemeinnützige Gesellschaft mbH (SBB) (Foundation for Talent Programme and Vocational Training). This 21-year-old woman had already been honoured at CONET for her excellent work and is now awarded this scholarship as one of 49 scholarship students by the Bonn/Rhein-Sieg Chamber of Industry and Commerce due to her excellent performance during the final examinations of her education as office administrator (Kauffrau für Büromanagement).
"I am very happy about my admission to the scholarship programme. The scholarship gives me the opportunity to develop myself further, not only personally but also professionally. Also I can targetedly select courses which complement my business administration studies during my employment ideally", says Annika Heymann.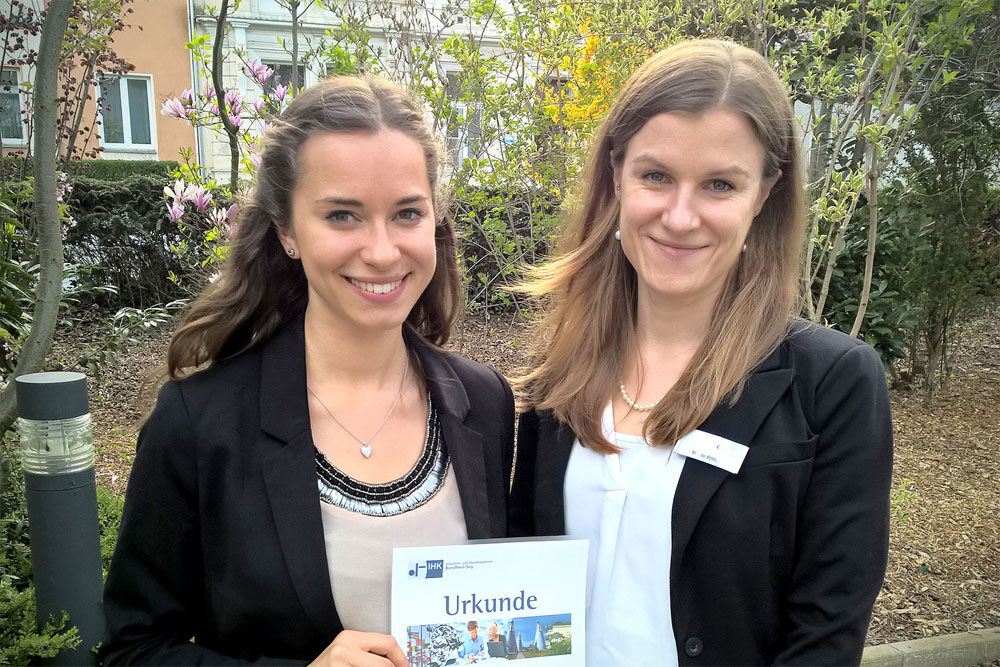 Annika Heymann (lleft) and CONET personnel officer Marie Ritter in front of the local Chamber of Industry and Commerce. Image: CONET
"We are proud that for the second time in succession the talent programme scholarship has been awarded to CONET apprentices. The promotion of young talents has a high priority for us especially with regard to the current lack of specialists. We therefore use the numerous opportunities to evoke interest in our training professions. This includes representing our enterprise on job information days of the local schools or on regional career orientation fairs or education fairs. This is why we have our apprentice assume responsibility very early on, by letting them inform pupils and students about the professional opportunities in our enterprise", declares Anke Höfer, member of the CONET Management Board.
About the talent programme
The Foundation for Talent Programme and Vocational Training (Stiftung Begabtenförderung berufliche Bildung – Gemeinnützige Gesellschaft mbH (SBB)) maintains two scholarship programmes for and with the means of the Federal Ministry for Education and Research (Bundesministerium für Bildung und Forschung (BMBF)): the training fellowship and the upgrading scholarship. Associates of the SBB are the German Confederation of Skills and Craft (Deutsche Industrie- und Handelskammertag), the German Chambers of Skilled Crafts (Deutsche Handwerkskammertag) and the Federation of German Independent Professionals (Bundesverband der Freien Berufe). More than 6,000 new scholarship holders can be admitted to both the training fellowship and the programme for young professionals in cooperation with the associated chambers and responsible authorities per year. The following criteria are crucial for the talent promotion:
Completion of a professional training in a recognised apprenticeship

Vocational examination with at least 87 points or the der average score of at least 1,9 respectively, at least rank 3 in a supraregional professional performance competition or evidence of a qualification by means of a reasoned proposal of the employer or the vocational college

Not older than 25 years at the time of admission to the programme