Questax successfully remains positioned among the top 10 of the German personnel service providers

The latest Lünendonk® market segment study "Recruiting, procurement and control of freelance IT experts in German" rates Questax as No. 6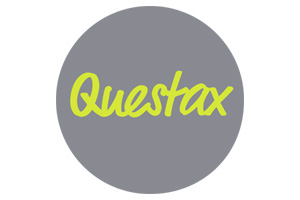 Frankfurt am Main / Mindelheim, 22nd September 2015. Among the German suppliers of recruiting, procurement and control of freelance IT experts, Questax currently ties for 6th place according to its turnover. This is the result of the latest published market segment study of the IT consultants and analysts of Lünendonk GmbH. With its more than 300 satisfied customers, its experiences from 15,000 projects and an experts pool of ca. 50,000 highly qualified freelancers, Questax has successfully confirmed its positioning at the top of the German IT personnel service provider market as a basis for further growth.
For the entire market of recruiting, procurement and control of freelance IT experts, Lünendonk estimates a growth for 2014 of around 7,0 percent with a total value of ca. 9 billion Euro. The driving forces behind this growth are not least the improved macroeconomic situation in Germany. Although the return on investment for the personnel service providers has dropped significantly compared to the previous year due to increased compliance requirements, the insecurity and the additional expenditures involved according to the Lünendonk study, at the same time, however, numerous providers have managed to obtain a strongly increased turnover from the simultaneously increasing consulting efforts and the desire for an unbureaucratic external commissioning. Altogether, 21 of the market leading enterprises participated this year in this study.
"To have successfully maintained our rank in the top 10 has shown that we are right on with our central values 'Inspiring. Individually. Excellent.' and our strong market position", declares Questax CEO Andreas Nader. "Thus, we are in an excellent position to profit from the continuing growth and concentration as well as the market consolidation for providers of recruiting, procurement and control freelance IT experts."
The cost and time pressures in the procurement of suitable specialists for projects, mixed teams and in the field of personnel leasing leads to the customers having higher expectations regarding consulting and sector expertise, reliability and innovative solution. This is also true for the freelance experts who expect services even better tailored to their needs. "We at Questax have the answers to these requirements due to our experiences and our practised values", summarises Nader.
About Questax
"Inspiring. Personal. Excellent." Questax is currently one of Germany's top 10 providers of freelance IT specialist and engineering staffing. Questax' core services are the placement of experts and managers in individual projects as well as an advanced portfolio of temporary and permanent employment services, personnel leasing and managed service solutions. As strategic partners, Questax in Frankfurt, Heidelberg, Dusseldorf and a Swiss office supports and consults more than 300 large and medium-sized customer enterprises with their recruiting teams of experienced industry specialists. Questax came in ninth place in Lünendonk's 2016 market ranking for the providers of recruiting, staffing and management of IT freelancers in Germany.
Please direct any enquiries to:

Questax Holding AG
Simon Vieth, Press Officer
Franklinstraße 46
60486 Frankfurt am Main
Germany
Phone: +49 69 2972345-246
E-Mail: simon.vieth@questax.com
Internet: http://www.questax.com