CONET is Novell's Partner of the Year 2012
On the Partner Summit 2012, Novell honored CONET Solutions GmbH for their special commitment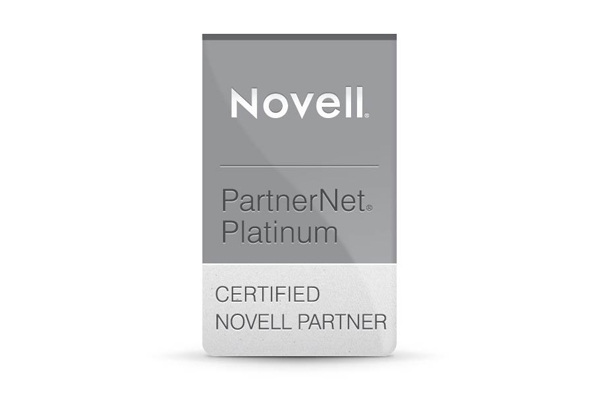 Hennef, 29th November 2012. Hennef-based CONET Solutions GmbH is Novell's "Partner of the Year 2012" in Germany. At the Attachmate Partner Summit in Berlin for partners of the producers Novell, NetiQ, SUSE and Attachmate, the US American software producer honored the special achievements of the Hennef-based IT-System- and consultancy company at the end of the year.
According to Attachmate, the determining factors for the award were the trusting and open cooperation on all levels, the outstanding sales activities as well as the high education and qualification level of the CONET specialists. Besides the participation of Novell fairs and road shows, CONET presented solutions for collaboration, endpoint and mobile management in a series of innovative in-house events titled "COFFEE Pause at CONET".
"It goes without saying that we are continually working on expanding our offers of modern and powerful solutions for the IT challenges of our customers – especially with regard to the new Novell solutions, which provides our customers with a platform-independent tangible added value even in heterogeneous IT architectures," says Anke Höfer, managing director of CONET Solutions GmbH. "The fact that Novell honors this engagement is an invaluable confirmation for the extraordinary work of our employees. At the same time, it is a special incentive to continue to comply with our customers' requirements regarding quality and benefit from our solutions in the future."
CONET and Novell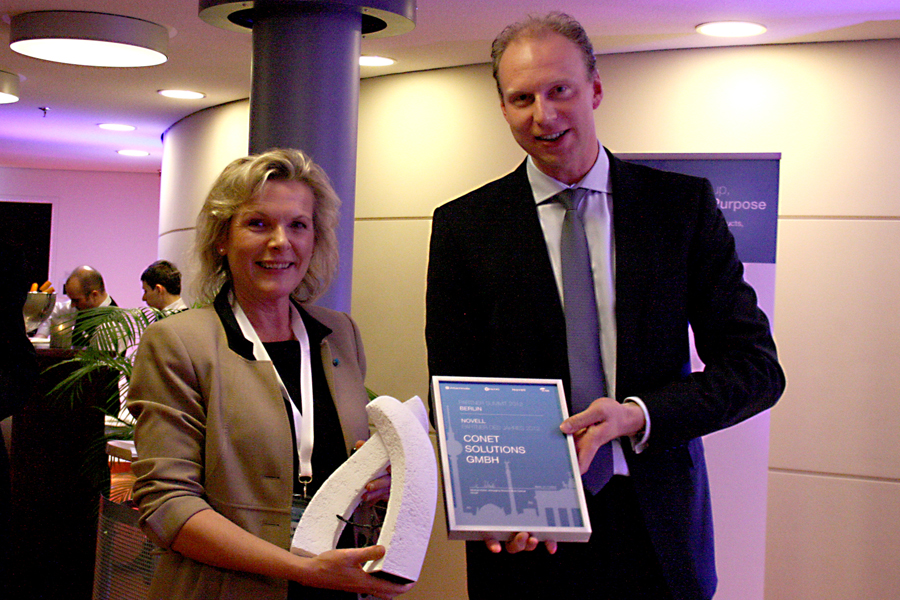 Since 1990, Novell and CONET have been working in a close and successful partnership for software, which increases productivity, security and administration of working environments. Presently, CONET Solutions GmbH is one of the exclusive partners in Germany holding the highest certificates as Platinum Partner. The basis for these certificates is the respective high qualification of the CONET specialists in the Novell environment. Customers of the public, services and industry sector all trust in CONET's experience from numerous big projects and solutions for medium-sized companies for the implementation of Novell solutions in heterogeneous IT architectures, automated server and desktop management, platform-independent network and system administration, collaboration and identity management.
Lösungen
Technologie
About CONET
"Success. Our passion." CONET has been a reliable and highly competent IT partner for SAP, Infrastructure, Communications, Software and Consulting with the focus on Cyber Security, Cloud, Mobility and Big Data since 1987. According to the latest surveys by leading German IT publication Computerwoche, CONET ranks among the best medium-sized German IT systems and consulting companies. Customers from industry and commerce, the public as well as defense and security sectors alike value CONET's commitment to quality and success. CONET product solutions for Critical Control Room Communications, Collaboration and Business Process Management are in use worldwide. CONET currently employs more than 400 business and IT specialists at eight locations throughout Germany and Austria.
Please direct any enquiries to:

CONET Technologies AG
Simon Vieth, Press Officer
Humperdinckstraße 1
53773 Hennef
Germany
Phone: +49 2242 939-246
Fax: +49 2242 939-333
E-mail: presse@conet.de