GWAVACon EMEA 2013 in Düsseldorf
CONET presents its collaboration and mobile management solutions portfolio in September in Düsseldorf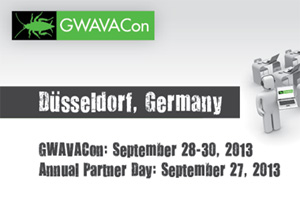 The events series GWAVACon has been established with the goal to bring together solutions experts, technology providers, distribution partners and users of many different technologies like Novell, Microsoft and GWAVA itself. Over a period of three days the participants are maxing out the potential of new products and solutions together in workshops and networking sessions. According to the organisers this year the focus will be on training and practice and the respective offers will be further expanded.
This year the GWAVA Collaboration Community will meet for the eighth time in Germany. From 27th until 30th September 2013 manufacturers, developers, consultants and users will discuss on GWAVACon EMEA in Van der Valk Airporthotel near Düsseldorf Airport about all areas of modern collaboration, cloud and mobility solutions.
CONET is a long-standing sponsor of GWAVACon. Dirk Beemelmanns will report about the possibilities to utilize the comprehensive range of services of Novell especially in heterogeneous system environments, the focus being innovative collaboration solution best practices with Novell Vibe.
Due to the European character of GWAVACon, all lectures will be held in English language.
Feel free to visit our lectures and use your chance for networking with our collaboration specialists.
See you in Düsseldorf!
Related Solutions
Event Website